Mombasa Tour
Mombasa is a place steeped in history, yet at the same time fascinating commercial and cosmopolitan port town. Mombasa is an island connected to the mainland by bridges and ferries. The town overlooks a wide harbor, where commercial shipping mingles with traditional sailing dhows.The true heart of Mombasa is found in the exotic old town, among the narrow winding streets and Arab architecture. The air here is always heavy with the scent of spices. At the water's edge is Fort Jesus, an imposing fort that stands watch over the harbor.The high gun turrets, battlements and underground passages of this 16th Century Fort were the centre of a historic struggle for control of the Kenya coast between the Portuguese army and the Shirazi Arabs. This war was waged around Mombasa over hundreds of years and countless battles, and the Fort stands as a testament to this tumultuous past.Modern Mombasa is a city of great diversity and life. This is a town were all are welcomed and quickly absorbed into this great coastal melting pot. Mombasa is a place where both history and progress are greatly valued, where a busy harbor existence is lived at its own unique, tropical pace.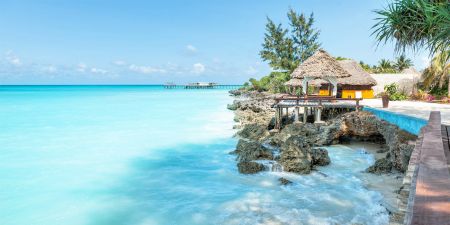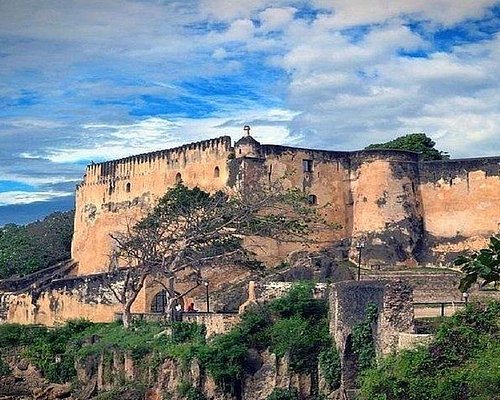 Full-Day Tour Details :
The tour begins from any accommodation in Mombasa area and visits: Fort Jesus Historical Museum, Old town, Walk in the market and lunch in a local dishes restaurant in Mombasa, Mombasa Giant elephant Tusk monument and afternoon visit to the haler park.
Tour Highlights :
 Full-day private Mombasa tour
 Visit Fort Jesus UNESCO site
 See the old town and tour a local market
 Hotel pickup, drop-off, and entrance fees included
Begin with pickup at your Mombasa accommodations, then travel to Fort Jesus, a UNESCO-listed, 16th-century Portuguese fort. Visit a series of exhibits inside the fort, which is also Mombasa's oldest museum, following the history of local people, the Swahili language, and the sultans. Continue into Mombasa's old town, where diverse historical architecture tells the story of the Africans, Arabs, Asians, Portuguese, and British who have shared the city for hundreds of years. Take in the elephant trunk monument, a poignant reminder of the now-illegal ivory trade that flourished in Mombasa. Pass the atmospheric fish market, where local fishermen display each day's catch, and take time to sample local dishes in the market (own expense)—visiting the market with the guide is a perfect way to learn about Mombasa specialties. Spend the afternoon in Haller Park, a wildlife sanctuary with a fish farm and reptile zoo. The park was constructed in a disused cement quarry, and has been transformed with hundreds of indigenous plants, casuarina trees, and other vegetation, which now support a thriving animal population. Try to spot some of the bushpigs, giraffes, elands, and oryx that live within the park. After visiting the park, return to your Mombasa hotel, where this private tour concludes.
LUXURY MOMBASA CITY TOUR SAFARI BY 4X4 JEEP LANDCRUISER.
| NO. OF PERSONS | PRICE IN US $ |
| --- | --- |
| 1 | 120 |
| 2 | 160 |
| 3 | 190 |
| 4 | 220 |
| 5 | 250 |
| 6 | 300 |
ECONOMY MOMBASA CITY TOUR SAFARI BY (MINI VAN).
| NO. OF PERSONS | PRICE IN US $ |
| --- | --- |
| 1 | 75 |
| 2 | 95 |
| 3 | 120 |
| 4 | 150 |
| 5 | 190 |
| 6 | 210 |
BUDGET MOMBASA CITY TOUR SAFARI BY (MINI VAN).
| NO. OF PERSONS | PRICE IN US $ |
| --- | --- |
| 1 | 70 |
| 2 | 90 |
| 3 | 115 |
| 4 | 140 |
| 5 | 175 |
| 6 | 180 |
Important Information :
 Departure Point: Traveler pickup is offered Any hotelS and residency within Momnasa, Apartments, Villas.
 Extra USD per person applies for pick up In Diani Beach.
 Departure Time: 8:00 AM.
 Duration 24h.
Included :
 Private transportation
 All Fees and Taxes
 Lunch – Sea food will be provided as lunch and there is also an option of chicken for these who dont eat sea food.
 Soda/Pop – A bottle of soda will be provided during lunch time.
 Bottled water – A bottle of water will be provided during lunch time.
 Use of Snorkelling equipment
 Canoe guided tour into sudi island mangroove forest.
 Entry/Admission – Watamu National Marine Park
Not Included :
 Snacks
 Coffee and/or Tea
 Alcoholic Beverages.
 Items of personal nature